When davesontour.com chatted on the phone and interviewed Vanilla Fudge drummer Carmine Appice, he was busting my chops with the standard New Jersey joke, "What Exit are you from?" He was also sitting in his home office in sunny Los Angeles, admiring his newly landscaped backyard.

Dave: Carmine, I'm honored that you agreed to do this interview. Thank you so much. In 2004, guitarist Pat Travers and you, under the name Travers-Appice, released a CD called "It Takes A Lot Of Balls." On July 12, 2005, Travers-Appice released a DVD and CD called "Live at the House of Blues." How did you hook up with Pat Travers?

CARMINE: I had a record deal for an album that was going to be me and Rick Derringer, whom I recently played with on the album "Derringer, Bogert and Appice." Then, when Rick couldn't do the album, I needed another "name" guitarist. The record's producer suggested Pat Travers, whom I had jammed with at the NAMM convention. The producer called Pat, I called Pat, and he came out and we started jamming and writing. We did the whole album in nine days, it blew me away!

Dave: How would you describe the musical direction of "It Takes a Lot of Balls"?

CARMINE: It's a 70's-sounding concept album with today's sonics.

Dave: On July 12, 2005, Travers-Appice released an incredible DVD, "Live at the House of Blues." A CD, the soundtrack to the DVD, is also being released. Other than material from "It Takes a Lot of Balls," what are some of the other songs on "Live at the House of Blues"?

CARMINE: Pat and I hand-picked a few songs each for our careers. We do a couple of songs from the Pat Travers Band, including "Boom Boom (Out Go The Lights)" and "Crash and Burn." We do a Cactus song called "Evil" and a Beck, Bogert and Appice tune called "Living Alone." We also do a heavy version of Rod Stewart's "Do Ya Think I'm Sexy?" I co-wrote that song by the way.

Dave: Carmine, the DVD flat-out smokes from start to finish. Should we expect more live shows from Travers-Appice?

CARMINE: I think we will do some more shows, but not a lot of touring because I'm busy with Vanilla Fudge. But there will be some one-off shows down the road.

Dave: I attended the recent Strange Days Festival tour that featured The Doors of the 21st Century, Vanilla Fudge and the Pat Travers Band. You and Pat joined an old bandmate of yours, bassist Phil Chen, and The Doors for their encore. It was a "roadhouse jam," and you looked and sounded really comfortable playing The Doors classic "Roadhouse Blues." How cool was it sharing the stage with Ray Manzarek and Robbie Krieger?

CARMINE: It was so much fun! I haven't been able to do it every night though. Ray thinks I have to add the big drum break in the middle. Some nights they are in a hurry due to curfew so I haven't sat in. For the upcoming Canadian tour, I'm telling Ray that I don't need to add the big drum section. I want to play on "Roadhouse Blues" every night.

Dave: Did your band Vanilla Fudge play any concerts in the 1960's with the original Doors?

CARMINE: Yes, many festivals including the Seattle Pop Festival.

Dave: From your perspective, how do you think The Doors of the 21st Century singer Ian Astbury does replacing the irreplaceable Jim Morrison?

CARMINE: Jim had great lyrics and he was a tremendous songwriter, yet as a frontman, he was very self-indulgent. In my opinion, he was not a great frontman. He wasn't Robert Plant if you know what I mean. I think that Ian Astbury is a tremendous frontman and that this version of The Doors is a much better-playing band. Their new drummer, Ty Dennis, is tremendous. Not that John Densmore wasn't. Phil Chen on bass frees up Ray's left hand. Robbie Krieger sounds great, and I, in particular, like this version of The Doors better.

Dave: Seeing and hearing the four original members of the Vanilla Fudge onstage again was another highlight of the Strange Days Festival. Different Vanilla Fudge lineups have toured throughout recent years. What were the circumstances that led to all four original members re-uniting for this tour?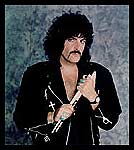 CARMINE: Actually, when The Doors lost Stewart Copeland, I looked into the job thinking they might be after a name drummer. Their management asked me to consider reforming the original Vanilla Fudge instead, and they offered to represent us. It was felt that more promoters would take a chance on Vanilla Fudge knowing it was the original four guys. The management deal was contingent on it being the original Vanilla Fudge. To be honest with you, once we got back together, it was obvious, especially with the vocals, that the magic had returned.

Dave: Were any of the recent Vanilla Fudge shows recorded for a future live CD or DVD?

CARMINE: No, not yet. We don't want to do a live DVD at this time. We're hoping for a new record deal instead.

Dave: The Doors of the 21st Century have lost the rights to use that name resulting from a lawsuit with their former drummer John Densmore. Now known as D21C, they are sharing the stage with Vanilla Fudge in Atlantic City, New Jersey, in August 2005. VH1 is taping that show as part of their VH-1 Decades series. What can music fans anticipate from that show?

CARMINE: That's going to be a real cool show and it's been renamed "Decades - the 60's." Vanilla Fudge is playing all of our classic material. Macy Gray is joining us on stage and we'll play the Marvin Gaye song "What's Goin' On." Also, this is The Doors even though they can't use that name. It's the best version of The Doors that I've seen.

Dave: The "power trio" is my personal favorite band line-up. One of the all-time great power trios, Beck, Bogert and Appice, featured you drumming, your Vanilla Fudge and ex-Cactus bandmate Tim Bogert on bass and vocals, and the incredible Jeff Beck on guitar. Last year, I had the pleasure of seeing Jeff play in a slightly different power trio, with no bass guitarist and no vocalist. Joining him were drummer Terry Bozzio and keyboardist Tony Hymas. Did you see that tour? How challenging is it for a drummer playing without a bass guitarist?

CARMINE: Yeah, I saw that show on the B.B. King festival in L.A. It's not that challenging playing without a bass guitar, but you have to be able to hear what's going on. I played on an Edgar Winter tour, and we had no bass guitar.

Dave: The classic rock band Thin Lizzy has toured the last couple of years with John Sykes on guitar and lead vocals. A lot has been said and written about the onstage and off-stage difficulties of playing and touring with John Sykes. You played with John in a band called Blue Murder. Do you share those same sentiments?

CARMINE: I've heard those stories and back then he was difficult to work with. I talk with John a lot, but I haven't played with him in a while. In talking with him, I think his attitude has changed. I would think he's easier to work with now than he was 10 years ago.

Dave: Please share a story or memory of playing with the late, great guitarist Tommy Bolin.

CARMINE: During Tommy's final days, I remember stopping by his rehearsals and he was always stoned out of his mind. I tried to talk some sense into him. He had this whiny little voice and he'd reply, "Don't worry, I'll be fine." His death was so tragic.

Dave: One of my favorite bands during the 1970's was Derringer. This band featured Rick Derringer and Danny Johnson on guitar and your brother Vinnie Appice on drums. You drummed on a solo album by Danny Johnson, and you recorded with Rick on an album called "Derringer, Bogert and Appice." Did you ever record, or play live in a double drummer format, with your brother Vinnie?

CARMINE: Don't forget bass guitarist Kenny Aaronsen. I played with him and guitar player Mick Jones in the Leslie West Band. My brother Vinnie and I did a video called "Drum Wars" where we battled for the "Appice" name. It was not instructional, but it was very entertaining. Vinnie also played on my solo album.

Dave: You spent many years as the drummer for Rod Stewart. You are credited as a co-writer on two of Rod's bigger songs, "Young Turks" and "Do Ya Think I'm Sexy?" Do you spend much time these days writing, or do you concentrate solely on drumming?

CARMINE: I write all the time, but I don't sit down at night and say I'm gonna write tomorrow. My writing is always specific to the project I'm working on. Right now it's the next T and A (Travers and Appice) album.

Dave: A British musician named Andy White drummed many a year for Welsh singer Tom Jones. He once joked with me about the hazards of drumming for Tom, whose female fans often threw their underwear at Tom. Many a bra landed on Andy's cymbals. Did you have similar problems drumming for Rod Stewart?

CARMINE: Yeah, but it was more funny than a problem. On Rod's stage, with me up on a riser, I was hard to reach. In the clubs, with Blue Murder and King Kobra, it was more of a distraction than a problem. I would drape my drumkit with the bras thrown up on stage.

Dave: You had two recording projects titled Guitar Zeus I and Guitar Zeus II. Many great guitarists contributed to those albums: Brian May, Slash, Ted Nugent and Zakk Wylde, just to name a few.Who is the one great guitarist you've never played or recorded with? Let's take this question a bit further and form a supergroup for one CD and tour? Which singer and bass guitarist that you've never played with would you add to this supergroup, tenatatively named APPICE?

CARMINE: Jimmy Page on lead guitar and Paul Rodgers on lead vocals. On bass, it would have to be the late Jaco Pastorius.

Dave: As a music fan, I was getting really tired of seeing shows in the big arenas. I had the pleasure of seeing David Bowie with your ex-King Kobra bandmate Earl Slick on guitar, in a 300-seat venue in Staten Island, New York. Can you share a funny story about Earl Slick?

CARMINE: Just that I tease him with a New York accent when I phone him, calling him by his real name, Frankie. Something like "Yo Frankie, want to go to da movies?"

Dave: Speaking of King Kobra, what was your reaction when you heard lead singer Mark Free had undergone a sex-change operation and is now performing and recording as Marcie Free?

CARMINE: I couldn't believe it! I had to call him up and have lunch with him to see it for myself.

Dave: How does your equipment and how does your frame of mind differ when playing arenas versus club tours?

CARMINE: It's more arm movement than attitude or gear. In a small place, arm movement is restricted.

Dave: Tell me about your company, Power Rock, which produces and markets instructional videos.

CARMINE: We haven't done much lately. We're more concerned with turning the old videos into DVDs.

Dave: Feel free to comment on or promote any of the other projects you're working on currently that I've neglected to cover.

CARMINE: My new website is www.carmineappice.net My webmaster and I are working on adding an interactive members area to the website.

Dave: I've read that you listed Gene Krupa and Buddy Rich as your drumming influences, and many of today's drummers list you as their influence. Which of today's drummers impress you the most and why?

CARMINE: Dave Grohl and Travis Barker are great drummers. I don't know much about today's guys. A lot of them have fast feet and fast hands but no feel.

Dave: You've always been called a heavy rock drummer. What were the challenges of playing a jazz style when you recorded with Stanley Clarke?

CARMINE: The biggest challenge was getting the call from Jeff Beck and being asked to come down to the studio. My kit was overseas. I had to pack up the car with a crappy kit from home and drive to the studio.

Dave: You've worked with many different record producers over your illustrious career. What do you, as a drummer, want and need from a record producer?

CARMINE: I only need two things, great sound and direction. Bob Rock and Tom Dowd are my favorite producers to work with.

Dave: My 5-year-old son Michael is a musician wannabee nicknamed Wild Mick. Somedays he plugs in a guitar, other days he sits behind his drumkit. What advice would you offer to parents whose children are showing an early interest in drumming?

CARMINE: Kids have to pick one instrument and stick with it. And get lessons. Make sure they practice every day. For the young drummers, pick up my video "Realistic Rock for Kids."

Dave: Can you share with us two favorite musical moments, one as a music fan attending a show, the other as a musician playing a show?

CARMINE: Some of the various tours I did in Japan were magical. As a fan my best memory is being 10 years old and watching guys like Chuck Berry playing on TV on the Alan Freed Show.

Dave: I once asked the guitarist/vocalist of Black 47, Larry Kirwan, about his band's philosophy, whether it was one night and one gig at a time or planning ahead to the next album. His reply was "all that counts is the gig ahead. Musicians don't get pensions, they get moments of transcendence. Without those nothing matters, so the next gig is everything." Could you self-relate to that statement?

CARMINE: Of course. The next gig is everything. As musicians, we travel for hours and days to get there sometimes. Everything we do, everything we have to endure and go through, is to just play. The gig is what it's all about.

Dave: Thanks again for allowing me to conduct this interview. You played on network television, specifically the Ed Sullivan show with Vanilla Fudge. You've played throughout the MTV music video age. You're still performing in the 21st Century, and in the last decade the music industry has been affected by the Internet and computer technology. Do you think the Internet is helping or hurting the quality of music being created today? Why?

CARMINE: That's a great question and we can spend a lot of time debating that. The quality of music is definitely being compromised. The Internet can help bands, but downloading is killing the record companies. The whole business is changing, and record companies spend no money and no time building their acts.

ARTIST BIOGRAPHY
Full Name: Carmine Appice
Website: www.carmineappice.net
Birthday: December 15
Birthplace: Brooklyn, New York
Hobbies: Movies, tinkering with his classic cars
Favorite food: Gnocchi, with pine nuts, in a pesto sauce
Favorite beverages: Hot saki, Diet Coke, water
Favorite rock band: can't name one
Favorite rock song: can't name one
First album you ever purchased: can't remember
Last CD you purchased: am going to purchase the new Robert Plant CD
Favorite film: "The Ten Commandments"
Favorite U.S. city to visit: San Francisco
Favorite venue to play: PNC Bank Arts Center in New Jersey