This interview with Age of Evil originated in November 2009 when the band's publicist asked me to meet up and chat with members of the band who were traveling cross-country to New York City to meet with East Coast music journalists. Once I gave their EP "Get Dead" a few spins, I was hooked on this new band. I put some new batteries into my tape recorder, prepared some questions, and grabbed a train ticket to New York City.

I spoke with vocalist/guitarist Jeremy Goldberg and lead guitarist Jordan Ziff that night, and a few months later I talked with Jordan again at B.B. King's in New York City. Age of Evil was about to make their live debut in New York City, opening the show for Hail, a band of superstar musicians.

Dave: Welcome back to New York City Jordan. How'd your band land the gig opening for Hail in New York City?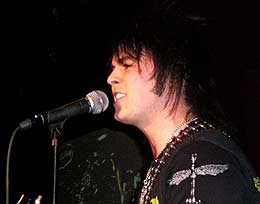 Jordan: We've known their bass player Dave Ellefson for three years. He finally came out to one of our local shows, and after the show he said we needed to open for Hail.

Dave: What are your thoughts on playing New York City for the first time?

Jordan: I'm excited. I hope New Yorkers don't throw tomatoes at me.

Dave: I don't think so! B.B. King's is arguably one of the city's premier music clubs, and the club books bands that run the gamut as far as musical genres. It's not a renowned metal club; it's not like you'll be playing in front of a hardcore metal crowd. Nobody will be throwing things at you!

Jordan: It'll be cool.

Dave: Given that Hail comprises ex-Megadeth bass guitarist Dave Ellefson, Sepultura lead guitarist Andreas Kisser, Dream Theater drummer Mike Portnoy, and ex-Iced Earth, ex-Judas Priest frontman Tim "Ripper" Owens, can we say old school and new school are sharing the stage tonight?

Jordan: Essentially, but Age of Evil is not really into the new school.

Dave: Well how about the new guys are opening up for the old guys?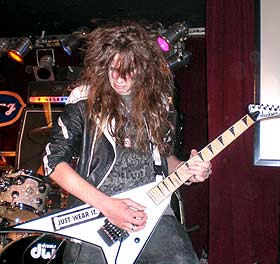 Jordan: That one sounds a lot better!

Dave: Well then I promise you that when I talk to Ripper and Mike Portnoy later, I won't say that you called them the old guys!

Jordan: Those were your words Dave!

Dave: Are you going to watch their set?

Jordan: Yes.

Dave: Is there anything you'll be looking for as far as trying to make tonight a learning experience?

Jordan: I just try to enjoy bands when I watch them play. If I get into analyzing their performance, it gets boring.

Dave: Tomorrow night you drive up to Boston and do it all again. I know it's just a two-city thing, so what's the rest of 2010 shaping into for Age of Evil with regard to live performances?

Jordan: We have something planned for Las Vegas in a few months and hopefully we'll be opening more Hail shows over in Europe. We've got our eyes on playing some of the European summer festivals also. That's it so far but obviously that won't be all. It's only January.

Dave: Best of luck tonight; I'm really looking forward to hearing your band.

Jordan: Thanks Dave.

Dave: Jeremy, why don't you tell me how it all get started for Age of Evil?

Jeremy: It all got started when we first met each other. The band is me and my brother, and Jordan and his brother. We started to hang out when we were 3 or 4 years old. We were inseparable from the time we met. We knew we always wanted to do something big together, and that thing was to be a band. We started as a rock band that transformed into a punk band. We eventually became a hard rock/metal band. That's how we got started. We played a whole lot of cover songs and eventually started writing our own songs.

Dave: Jordan, if that's the how and when Age of Evil got started, tell me where it all started.

Jordan: Scottsdale, Arizona.

Dave: Specific to Scottsdale, yet general to the desert, how did that environment influence you as a person?

Jordan: As people?

Dave: As human beings. We're all influenced by the environment we live in or grow up in. For example, my children Michael and Diana are growing up in New Jersey and they've never even seen the desert in Arizona.

Jordan: Living in Arizona is not like living on the East Coast where everything is kind of hectic. We're just chill. We like to just hang out. We don't like hectic things going on.

Dave: As musicians, has the desert environment helped you, or hindered you?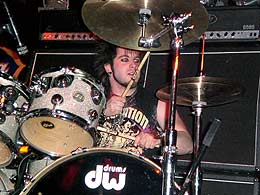 Jordan: To be honest, I don't think it's done either. Our environment in Arizona has just made us who we are personality-wise. Music-wise, Age of Evil just does whatever we feel like, whatever sounds bad-ass and will kick your teeth in.

Dave: Obviously, I know nothing about the Scottsdale music scene. Tell me about the music scene, if there is one.

Jordan: If there is one! I guess there is a little music scene. Kids our age are doing the grindcore bullshit. Older guys are doing the indie thing. There's no solid music scene. It's different people playing different types of music. No one thing is bigger than the other.

Dave: Do the colleges in and around Scottsdale change or add to the music equation?

Jordan: Everybody listens to hip-hop nowadays. Everything needs to resurge. The rock scene needs to come back.

Dave: Jeremy, you mentioned before that Age of Evil started as a rock band, transitioned to punk, and eventually to metal. Why metal?

Jeremy: We were really rock/metal when we started. We listened to Ozzy, Led Zeppelin, and Dream Theater. The transition to punk was maybe the catchiness or simplicity of it. After listening to and playing punk for a while, we wanted to branch off into something a little bit more technical; something with a little bit more depth, something with attitude and rawness, and something with a different type of lyrical content. We found metal again like we had known from before, but a little bit heavier. We fell in love with it. It was fresh and new to us. I guess that's really where our hearts lie, in hard rock and heavy metal.

Dave: If Age of Evil is a band that is proud to fly the metal flag, that flag needs to be flown in front of international audiences. Are you ready for the sacrifice of spending summers in Europe?

Jeremy: We spent sixty days of the summer of 2009 playing in Europe. We toured there and got a great response wherever we went. We had an awesome time and it's the fourth time we've been there. Age of Evil is not newcomers to the European scene. Whether we're playing at a death metal festival or a hard rock metal festival, everyone there likes us. Our sound caters to people who grew up when heavy metal started as well as the younger kids who are just getting into it now.

Dave: So the past few years, Age of Evil has been ready for the challenge of playing in Europe. Was it a welcomed challenge?

Jeremy: Yes it was. The first time we were invited there was for the Bang Your Head Festival in Germany in 2007. That invitation came twelve days before the festival. It was really short notice. We played the warm-up show and we were so well-received that they invited us back to play on the main stage the following year. Age of Evil always wanted to go to Europe, and we left a great impression once we got there.

Dave: Jordan, as a metal band do you have to accept the status quo of playing Europe, or, do you think an American metal band with the right circumstances can break it big here in the United States?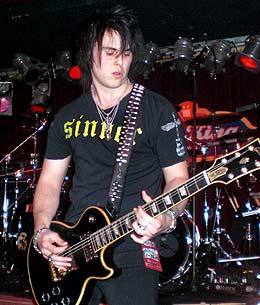 Jordan: I feel very strongly that we can break both barriers. Age of Evil is not just a metal band. We're a metal, hard rock, play whatever the fuck we want type of band. And most people like that. People that don't like it are douche bags!

Dave: I'll be adding links to your website and My page to the text of this interview, my readers can click on those links to hear Age of Evil's music. Until they get there Jeremy, please entice them and give me a sentence that describes the sound of Age of Evil.

Jeremy: Age of Evil is all about attitude, rawness, and melody, which is often lost nowadays. We try to take traditional metal and give it a modern sound.

Dave: Introduce all the band members Jeremy, and tell me about their primary influences on their chosen instruments.

Jeremy: I'm Jeremy Goldberg. I sing and play guitar. As a vocalist, I can't say that I have one. I love Rob Halford, Bruce Dickinson, Axl Rose, Steven Tyler, and David Lee Roth. As a guitarist, it's really hard to say.

Dave: Then look across the table and introduce your lead guitarist.

Jeremy: That's Jordan Ziff, and his influences would probably include Yngwie Malmsteen, Extreme's Nuno Bettencourt, and Eddie Van Halen.

Dave: Would you agree with that assessment Jordan?

Jordan: Almost. He's overlooking Carlos Santana, Dimebag Darrell, Stevie Vai, and John Sykes.

Dave: What about Age of Evil's rhythm section?

Jeremy: That's easy. My brother Jacob Goldberg plays bass, and his biggest influence is Billy Sheehan. Jordan's brother Garrett Ziff is our drummer. Attitude-wise, his biggest influence is Tommy Lee.

Dave: As songwriters, who are your band's biggest influences?

Jeremy: The Beatles. They're amazing songwriters. I love Boston. I love a newer rock band named Muse. I think on our EP "Get Dead," and even more on our next record, people will hear our influences, especially on guitar and in my vocals.

Dave: I hear a little bit of Yngwie when I hear you Jordan. Am I hearing it right as I'm listening?

Jordan: Yeah, but I'm not trying to mimic. I'm trying to renovate. But I'm obviously still developing as a player. I'm only 18, and I have a long way to go. Our new full length record will show a lot of development in the musicianship of our band.

Dave: I interviewed Judas Priest guitarist Glenn Tipton a few years ago about two solo records he was promoting. When he let me shift my questions to Judas Priest, I asked Glenn about his musical relationship with K.K. Downing. Glenn said that they seem to have a psychic connection; that one set of hands knows what the other is doing, or will be doing. But that it took a lot of time to develop. Because your band consists of two sets of brothers, and that you all are lifelong friends, can you foresee that type of almost psychic musical relationship? Would the timeframe shorten in your case because of the "family" relationships?

Jordan: It's not something that automatically happens, but it has happened every once in a while. When it does, me and Jeremy look at each other and grin. It's not there all the time.

Dave: If that psychic connection is there five years from now, will it be due to growing up together?

Jeremy: Of course because we've grown up together it will affect the way we play and write. A great example would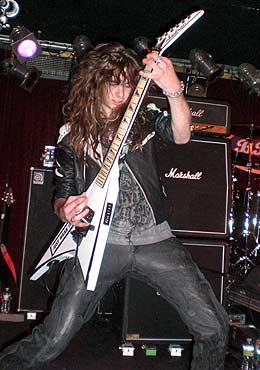 be Dimebag and his brother Vinnie Paul. They are so solid with each other on everything. when you listen to their songs, you could tell that they are brothers.

Dave: Age of Evil covered the Judas Priest song "Electric Eye," and Jeremy mentioned the influence of Rob Halford as a vocalist. Watching their performances in a small theatre called The Palladium in New York City in 1977 and 1978, I saw the passion and the conviction in their music. Watching Judas Priest today in an amphitheatre or arena, I can feel the energy and hear the thunder, but the passion seems to be missing. Maybe it's because I have the worst seats in the house and I'm miles from the stage. Generally speaking, without picking on Judas Priest, I'm of the opinion that you can only see the passion in a club or on a small stage. If you two guys attend the concerts of veteran bands, do you see enough passion?

Jordan: It depends on who it is you're watching. I feel Judas Priest still has it, yet every band is entitled to an off night now and then. Obviously, some bands are touring just for the money. Judas Priest doesn't need the money so the passion has to be there for them to keep on touring.

Jeremy: The first time I saw Iron Maiden they blew me away. What they were doing was 100 percent real. They were there to put on a show; they weren't there just for the money. That mindset opened up a lot of mental doors for me. I needed to see that. That night shaped the direction of the type of band I want Age of Evil to become.

Dave: Jordan, I read a quote where you said there is a certain rawness in music that everyone has seemed to lose. Are there action steps Age of Evil needs to use to keep the passion and soul in their music?

Jordan: First off, we write music we want to play, not music that we think we'll have to write to sell records. When we record music, we don't do the bullshit punch ins and punch outs and drum looping that everybody does with Pro Tools. That type of music lacks energy. When I hear other people doing it that way, I'm like I don't care about your music because you don't mean it.

Dave: Jeremy, you're here in New York City to promote the release of your EP "Get Dead." What is the official release date?

Jeremy: About five hours from now, November 17, 2009.

Dave: People like me need a physical copy; where's the best spot to purchase your EP.

Jeremy: Right now the only spot is at our website. You can download it at all the regular spots.

Dave: Why only an EP?

Jeremy: We wanted to show how far we've come since our first record, what we sound like now, and what we hope to sound like in a couple of years. It's a nice little package that will set up our full length record. It also gives our fans a taste of what's to come.

Dave: Describe the thought process behind the EP's format of two covers, two live songs, and two new originals?

Jeremy: The Judas Priest song "Electric Eye" was thought out prior to the EP. We played in London, and we wanted to play a cover song people would appreciate. We knew it was a song that we'd one day record. The Skid Row song "Slave to the Grind" was practically learned on the spot. The first time I recorded the vocals, I was reading the lyrics for the first time. For people that haven't seen us, we wanted to give a sense of what we're like live. If they hear the energy and raw power, maybe it'll inspire them to come to a show. Then we'll kick their ass live. Those songs were recorded at one of our European club shows.

Dave: How do the two new songs, "Cruel Intentions" and "Get Dead," show how Age of Evil has evolved since your first record "Living a Sick Dream"?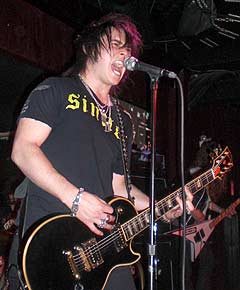 Jeremy: Everything, from the sound of the record, to our attitude, to the way that we play, to how we sing, has come a long way. The production and song composition have matured. One of the big things someone will notice is my vocals. I sound a lot different now than I did when I was sixteen. We're tighter and more solid as a band.

Dave: Jordan, what's the next logical step in trying to build Age of Evil?

Jordan: Tour. Tour. Tour.

Dave: How much social networking does Age of Evil do, via MySpace or Facebook?

Jordan: We have to work the Internet as hard if not harder than any other band.

Dave: Does the time spent on your computer take away from the creative processes of writing music, recording, and rehearsing?

Jordan: No, because we're not always the ones doing that stuff. When it comes to responding to fans, I promise you that it is always us. Jeremy does a lot of our graphic design stuff and that's a big help.

Dave: What's your opinion on the state of the radio industry in 2010?

Jordan: That's a good question but a hard question for me to answer. I don't listen to much radio. I'm usually just listening to my CDs or my i-Pod. I don't keep up with all the new bands. I write music and listen to stuff from the 70s and 80s.

Dave: I'm kind of the same way. I don't have enough time to listen to what I want to hear. I can't tune into a radio station and spend my valuable time listening to what they want me to hear. I think radio is dead but that might just be my choice.

Jordan: I think it's our choice too Dave!

Jeremy: There are some stations alive that are playing the classics, but on all of the modern stations, every song sounds the same. In that sense, maybe radio is dead.

Dave: The bigger exposure is getting your music heard on television. Have you put forth any effort trying to place your music there?

Jordan: Absolutely. We're working on it. A lot of people watch television and films, and bands are making money from having their songs being placed that way. We're trying to get our music placed on video games. It's so weird these days that hardly anybody pays for music. Back in the day if you heard a band you liked, you'd go buy their record. These days, if you hear a band you like, you look them up on YouTube to get their song right away, or even worse, you can download their music illegally. I'm not too against that now because it's all about getting heard when a band is in its beginning stages. Veteran bands are losing money and that's another story.

Jeremy: The X Games, Ultimate Fighting, and wrestling are also natural fits for metal music.

Dave: Thanks for the interview and best of luck as you move this thing forward. For my final question Jordan, since your band's chosen musical genre is metal, where do you think metal is heading?

Jordan: It's probably going to go in a rock and roll metal direction. It'll keep the metal sound. It won't be like radio rock where everything sounds the same. Age of Evil will stay metal Dave, you can count on that.