Before I start the interview, I'd like to welcome Temperedcast to New Jersey.

KELLY: Thanks for having us.

First time here?

KELLY: Yeah.

Here at Starland Ballroom, as well as the first time in New Jersey?

KELLY: Yeah, and everybody's made us feel extremely welcome.

Your band is out on the road playing shows to support your new record "Reach." Let's stick with the word "reach" for my first two questions. Like any band, two of your challenges are trying to reach a new level as musicians and songwriters, and trying to reach new listeners both inside and outside your home base. How is Temperedcast trying to meet the challenge of reaching new listeners?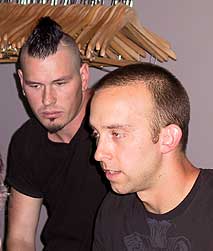 KELLY: As far as reaching new listeners, it's mostly via the Internet with our MySpace page, which we update personally, and through communicating directly with music fans that we meet at the concert venues. We make it a point to respond back to any fans that send us a message. We try to keep it personal when we're reaching out to fans. At our level, the time spent communicating with fans hasn't interfered with our creative processes writing and recording music. But I'm sure there is a level where bigger bands have a tougher time keeping up with direct communication to their fans.

CALVIN: It helps that when we're out on the road, we have quite a bit of free time to get back to the fans commenting or messaging us at our MySpace pages. Time will tell, but if we're back at home in Seattle in the writing process, communicating with every fan might be overwhelming. We'll see.

NICK: We have really tech-savvy guys in this band. The minute we have live video or make a music video, it's uploaded to our MySpace page in a couple of hours. The Internet lets us reach a distance greater than our touring takes us.

CALVIN: With no record label support, the Internet is a blessing for us. It's the only option we have to get our music to the people, other than our own money. And we don't have a lot of that. The Internet is our best friend.

KRIS: Pounding the road supporting another band is another way of reaching new fans. This is our breakout tour. We've only done regional touring up until now. Being out with Puddle of Mudd, who are so big and mainstream right now, is letting us reach so many people that we wouldn't be able to reach. It's a great tour to be on and we're extremely excited, enthusiastic, and grateful.

JOSH: We're playing cities with big crowds. If we tried this on our own, it would be difficult bringing out people to fill the venues. Hopefully next time we come out, people will remember us from the Puddle of Mudd tour and come back out again to see us.

CALVIN: Dave, you also mentioned trying to reach new listeners inside our home base. The best thing that we could have done at this point in time was to leave. We've done everything we could. With the new record coming out, we didn't want to waste a lot of time pushing it in our hometown. We'll have all of the time in the world to do that. Getting out on the road as soon as this record was wrapped up was the most perfect decision and perfect timing that we could ever have.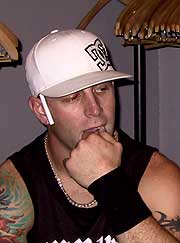 NICK: A big part of building a band is touring regionally, which we've done a lot. That's how our paths crossed with Puddle of Mudd and Red. You can only build it so far in your hometown and then you have to take it outside to build it bigger. Then, when you bring it back home people will say that they remembered you back when!

KELLY: This tour's already opened up some doors for local radio support. When local people see us trying to take it to another level, they'll support you much more when you get back home.

CALVIN: Finishing the record, landing the tour, and the time spent preparing for the tour was the most stressful month of my life. The list of things we had to do was insane. Yet people have taken notice of all the hard work we put in it to make it happen.

NICK: The minute we finished the record we had our release, and a week and a half later we had to pack up our car and be in Texas. It's been exciting, stressful, frustrating, and we had to deal with the unknown of what was going to happen. For the first time in our career, everything is working out in our favor.

What is Temperedcast's philosophy on how you can reach a new level and become better musicians and songwriters?

KELLY: You have to keep writing and keep playing to improve. The difference between our first album and our second album was this go-round, we did a lot more pre-production. We broke down the songs.

CALVIN: We nit-picked them!

KELLY: We tried every scenario that we could. We got the songs to sound the best, at least to our ability. We recorded it ourselves in Pro-Tools before we stepped into the studio. Every time you write a song you figure out a better way to do it or a better process. We've found our niche as far as laying down a basic song structure and nit-picking it.

Music fans are going to be able to link from my website to your MySpace page and website website to hear your music and, I assume, purchase your CD. Until they get there, how would you verbally describe the musical direction of Temperedcast and your new record "Reach"? Also, from the songs I've downloaded and listened to, I'll pick "Careless Design" as a favorite. What are the band and fan favorites?

CALVIN: Fans can write us at our MySpace page or website, and we send off hard copies of our CD immediately, and of course we sell them at our shows.

KELLY: We have a digital distribution deal with CDBaby and in the very near future we'll have one with a company called Adrenaline Music.

JOSH: Most of us describe Temperedcast as melodic hard rock. There's no screaming and we incorporate a lot of melodies and harmonies. We're all fans of bands like Sevendust that are heavy with big choruses and harmonies.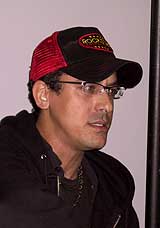 KRIS: The easiest way that I can describe Temperedcast is Alice in Chains meets Metallica. We have soaring vocals with melodies and harmonies. We have tight, riff-driven songs. For me, that's the best way to go.

NICK: Those guys described it best. But it's still all about five different guys and the different bands that influence them musically. The you shake up and stir the whole thing. We never hear the same comparisons from different people and that's kind of nice. It tells us that we're creating our own kind of sound. We feel that we've created our own style, our own version of music that is marketable right now.

CALVIN: Hell, we even got compared to Motorhead the other day! I'm a big fan of very powerful, explosive chorus. I do the best that I can when I write them but I feel that I quite haven't gotten it yet. I have so much more in me, and I hope I can harness it for the next record. My melody lines are getting better and better, and my band mates have been so helpful when we nit-pick them. They've come to the plate and voiced their opinions. I was hesitant at first but the more I let them help me, the better our songs kept getting. The collaboration between the band is an important part of our sound. It's helped make this record dwarf our first record, "Proximity Fuse."
KRIS: I really like "Riddance" because it has a lot of two-guitar parts. I like playing all the songs. We might have songs we enjoy playing for our own selfish reasons, but I don't think there's a band favorite. "Coming Down" is shaping up as the fan favorite. It has a lot of catchy parts that are kind of exclusive but obviously related to each other. It has a very easy chorus to sing along to.

Calvin mentioned earlier in the interview that is was important for Temperedcast to take the band outside its home base of Seattle. Is there anything left in Seattle from the "grunge" scene and is there any extra pressure felt by Seattle bands to keep the music torch burning that was originally lit in the late 1980's and early 90's by bands like Soundgarden, Alice in Chains, Pearl Jam, and Nirvana?

KELLY: There's not a whole lot of grunge stuff but there's a decent indie and metal scene. I'm not into a whole lot of indie music, but the clubs have indie bands playing constantly. I don't think there's extra pressure. We don't run into people who expect us to sound grunge necessarily, but when people here we're from Seattle they expect quality.

CALVIN: The only thing that's obvious about the grunge era in Seattle is that the local bands will always do cover versions of songs from that historic time period. We love to cover those songs because some of our influences were Alice in Chains, Screaming Trees, and Soundgarden. Chris Cornell is one of my musical heroes. We respectfully kick those songs around but everybody is pretty creative in Seattle. Everybody wants to create their own music.

NICK: The sad thing is that we weren't old enough to experience that scene. The live music scene has really taken a hit recently and most of the historic clubs that those grunge bands called home don't exist anymore. A lot of the clubs have turned to deejays and dancing.

CALVIN: That's another reason touring outside Seattle was always in Temperedcast's plans. We knew it was only going to get worse there. Our only way to grow and survive as a band was to get tour experience and road experience. We spent almost two years planning for this national tour that we're on with Puddle of Mudd.

How and when did Temperedcast get its start and what is Temperedcast's next logical step as we approach 2009?

NICK: It's a long story and an ongoing deal. Originally, Kelly and I were neighbors and we started jamming together years ago. Temperedcast was officially together in 2006. We went on a guitar player hunt through the local music paper, "The Stranger," and we won the freakin' lotto when we found Kris. In walked a soft-spoken guy and he picked up a guitar and he was like a savant, dude. His hands were like water and he was going nuts. He was a amazing. Then we went on a singer hunt. Calvin came word-of-mouth. We heard his demo and he had a real original voice. Kelly and I kept banging on his door and stalking him. He was being a hard-ass and he wanted nothing to do with us. We went out jamming and things really clicked. After writing material for "Proximity Fuse," we wanted to bring on a second guitarist to make the music true to what we recorded. Our producer at the time, Scott Olsen, pointed us in the direction of Josh Perry. He walked in, he could play, he didn't rock the boat, and after a few practices the chemistry clicked.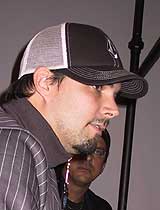 JOSH: I think the next logical step for Temperedcast is to keep writing and keep coming up with new music. As far as playing shows, after this tour we should be a well-oiled machine once we're back home. We'll still be hungry and we hope to land something for the Spring of 2009 to follow up on what we started here on this tour. And maybe find a home for "Reach" because we don't have a label yet.

KRIS: I think the next logical step is to keep doing it ourselves. We funded this record and we funded this tour. It's our own project. We have to prove ourselves with this tour. Once we get back home it's got to be back to the grind.

CALVIN: I think Temperedcast is one of the few bands that believe in our music and believe in each other enough to finance a record and tour. Doing it yourself forces you to work your ass off. When it's time to work, to get down and get dirty, to get your name out there and your CD out there, we tie our shoes a little tighter and hit the floor running. We'll probably plan a few local shows early in 2009. We never had the time to throw a proper CD release party.

NICK: The last time we toured regionally, we didn't have our newest record. We owe it to our local fans to play our home base and push our new CD. We have bills to pay. We need to get that CD into the hands of people who want to hear it and into the hands of people who don't even know we exist yet. That's our goal.

The late, great Dimebag Darrell and his band, Damageplan, played at Starland Ballroom a few days before his tragic death. I was lucky enough to talk with him and he was such a genuine person. I hope to keep his memory alive by closing my interviews with a question about his legacy. How did Dimebag Darrell impact the musicians in Temperedcast?

KELLY: Vinnie Paul was one of my favorite drummers. He and his brother Dime created a groove-oriented metal that influenced tons of bands that are playing today.

JOSH: As a guitar player, he was somebody I listened to. He was one of the top players. I never met him but I never heard one bad story. He was the life of the party yet he talked with everybody. He never got too big even though he was one of the biggest stars. Dimebag could write some riffs too!

KRIS: I respect Dimebag so much because Pantera not only kept metal going through the 90s, they took it to another level. Dimebag proved you could be a kick-ass rock star without having to act like one.

NICK: You could put every guitar player out there on a tape test. No matter how many you line up and listen to, you could hear him playing and know exactly who it was. He had his own style. He was amazing and could never be mistaken for anybody else.

CALVIN: He created his own genre, which I believe he coined power metal. I hope this is an accurate depiction, but I call him the Eddie Van Halen of my era. It was absolute dumb luck, but I had the chance to meet him in Detroit when I was 19 years old. Pantera was my gods at the time, and I stood there frozen holding a poster. He said "Dude, are you just going to stand there looking at me like you're stupid or do you want me to sign that"? That snapped me back to life, and he giggled at me and patted me on the shoulder. I was star-struck. Long live Dimebag!